When it comes to yoga many are astounded to know about the broad spectrum of existing types you can run into. The types of yoga include Hatha, Vinyasa, Bikram, Ashtanga yoga, plus many more. Yet if you are living in the U.S. chances are that you have definitely heard about power yoga.
Power yoga is a relatively new kind of yoga. The practice was founded in 1990 by renowned yoga teacher Beryl Bender Birch, who is also the creator of and also an instructor at the popular Hard & Soft Yoga Institute located in Great Barrington, Massachusetts. Its roots lie in Ashtanga and Vinyasa yoga; and basically, include the physically demanding practice of Ashtanga alongside the particular flow and arrangement of vinyasa yoga. Yet, the poses, as well as their sequence and order, are entirely up to the teacher who is leading the class.
Standing poses are a priority in power yoga, as they favor getting your heart rate up and the focus of its practice is to provide a cardio workout. In fact, there is so much emphasis on the physical side of yoga (practically forgetting the philosophy of it), that many tend to refer to it as "gym yoga". Yes, this deviation and spin-off of Ashtanga and Vinyasa yoga have as main objective to make you sweat by triggering a lot of internal heat throughout your body and the reason behind this is that it was created to attract athletes of all ages, abilities, and sports to do yoga. Some studios also alter their power yoga workout room temperatures to make practitioners sweat more, and therefore lose more weight.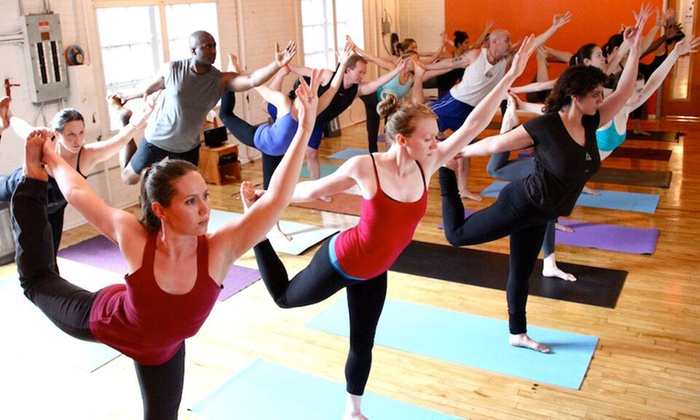 Benefits surrounding power yoga have been highlighted by many. Advantages include weight loss, fitness, the release of toxins due to heavy sweating, an increase in flexibility and in general versatile and entertaining lessons that vary from session to session; though this latter one will highly depend on the teacher at hand.
The main criticism towards this new-age yoga, however, is the intention that lies behind it. You do not have to take a close look at yoga history in order to notice that the aim and drive behind ancient sages and gurus was entirely spiritual. The one aim of genuine yoga was and still is to achieve a state of oneness with the universal self and its practice is far away from being merely physical. The asanas, in fact, form just a piece of a complex and abundant system that happens to be part of a millenary tradition.
Power yoga accentuated the physical plain of the practice so much that it left the rich reflective historical heritage behind. When first conceived, the intention behind this practice was athleticism, while its aim is good condition and strength.
Nevertheless, this popular practice, as well as its suitability as a body, mind and spirit connection tool, must not be condemned. In the end, yoga is all about allowing different points of view and freedom of choosing paths and as far as we all know there are as many routes as there are people.